Temos visto na Sic Radical o Anthony Bourdain, e ficado com fome a ver cada programa. Já o vimos na França, no Japão e até no Laos, mas ainda não o vimos em Portugal! Até agora: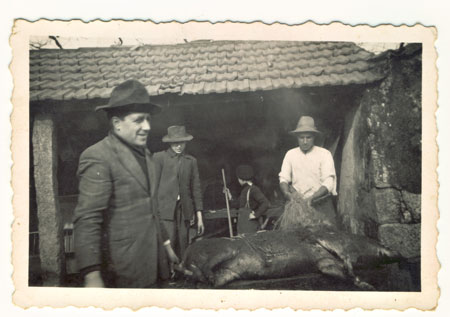 "For my entire professional career, I've been like Michael Corleone in The Godfather Part II, ordering up death over the phone. When I want meat, I make a call, or I give my sous-chef, my butcher or my charcutier a look, and they make the call. Every time I have picked up the phone or ticked off an item on my order sheet, I have basically caused a living thing to die."

"What arrives in my kitchen, however, is not the bleeding, still-warm body of my victim, eyes open, giving me an accusatory look that says, "Why me, Tony? Why me?" It was only fair, I figured, that I should have to watch as the blade went in. I'd been vocal, to say the least, in my advocacy of meat, animal fat and offal. I'd said some very unkind things about vegetarians. Let me find out what we're all talking about, I thought."

"José Meirelles comes from a large family that, like its prodigal son, loves food. [...]  If he told me that killing and eating a whole pig was something I absolutely shouldn't miss, I believed him. So it was with a mixture of excitement, curiosity and dread that I woke up on a cold, misty morning in Portugal and looked out of the window of my room at orderly rows of leafless grapevines."